The Camillari tower is one of the 72 towers built by Fabrizio Pignatelli, along the Calabrian coastline in order to face the continual Saracen incursions. The tower, built between the Amusa river and the Allaro river, on a high rise, facing the latter day Caulonia Marina, is commonly known as "Camillari".
Once upon a time, the surveillance and watch service had to be done by every citizen (from 15 years old to 60), divided by "norie" (district), who, in case of a sudden Saracen landing, had to perform the agreed signals.
Today, the tower still rises where it was built but pirates are no longer watched out for from its walls and one no longer hears the sounds of weapons but only the washing and breaking of waves along the Ionian coast, it is a silent witness of a long past civilisation.

At the feet of the 1500s tower, a Greek settlement has been unearthed, dated back to the V century, according to the pottery and artefacts found there.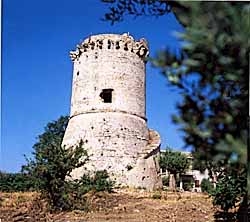 Camillari tower