The Allaro river
The Allaro river, known as Sagra by ancient populations, begins its journey in the district of Fabrizia (CZ) and, just like a huge and shining silver ribbon, it winds its way through fertile fields until it reaches the placid, cobalt coloured waves of the Ionian sea.
Along this river, deposit of ancient truths, in the V century B.C., during the times when Rome was ruled by its first kings, the Crotonians, the Locresi, the Tarantini and the Reggini met in battle.
Back then, the Crotonians, not tolerating the League between the Tarantini and the Locresi, threatened to wage war with an army of 130 thousand men.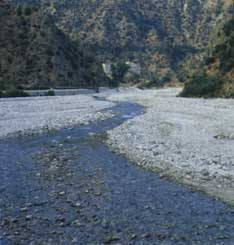 Allaro river (Antico Sagra)
The Locresi allied with the Reggini but, nonetheless only managed to put together an army of 10 thousand men, mostly Tarantini cavalrymen.
The armies met on the Sagra river, where the Locresi, exhilarated  by the fantastic apparition of the "Dioscuri" (the deities Castor and Pollux, heroes of Greek mythology), launched into battle annihilating the Crotonians.
This surprising victory created the following proverb used in connection with the incredible feats of the Locresi and the Tarantini cavalry: "La cosa è più vera che il fatto sul Sagra" (It is more true than the battle on the Sagra).