The Matrice church
(Centre of Caulonia – Piazza Mese)
"Being derelict and impassable, Bernardino Viterbo Protopapa, by wish of the Count Vincenzo Carafa, demolished it and built it again in 1513: the reconstruction work began on the 11th of May of the same year". Once rebuilt, the Matrice church, otherwise known as "Cattolica", became one of the eleven Protopapale churches belonging to the Dioceses of Gerace, under the name of Santa Maria Assunta. Inside, it is divided into three naves and its decorations are in 1700s style. The sarcophagus of Vincenzo Carafa is worthy of attention, built in 1488 according to Geronimo II's plans and placed behind the main altar in 1637.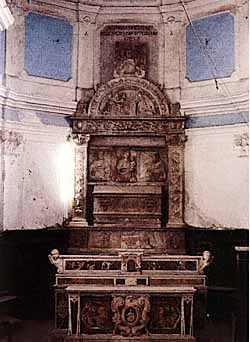 coat of arms of the Carafa family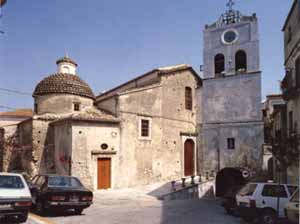 Matrice church
Sculpted in white marble, the mausoleum presents "a linear architectural plan in Renaissance style", it has a predella (whose "pretil", lath and lower part of an altar-piece are in Longobard style), two pillars complete with architrave and lunette.The Cristo Morto is portrayed in the predella between two adoring angels.


The sarcophagus sits between the two pillars surmounted by three panels portraying the Madonna and Child, and, on either side, Saint Peter and Saint Andrew. Lastly, in the lunette, the Annunciation is portrayed.
Visible on the sarcophagus and on the base of each pillar, is the coat of arms of the Carafa della Spina family, from whom descended arch-priests, bishops, cardinals and a Pope, the Pope Paolo IV, who is remembered as being one of the most turbulent Popes to sit in the throne of Peter. This monument, after undergoing an inspection by the Superintendency for Antiquities, was declared a national monument. Also the main altar is worthy of notice, built in white marble with the pulpit and choir in walnut.